Current Session
Tuesday Doubles January/February
Standing Sheets
Lane Assignments
New Session Starts March 7th
 Coal Creek Bowling
1455 Coal Creek Dr
Lafayette, CO 80026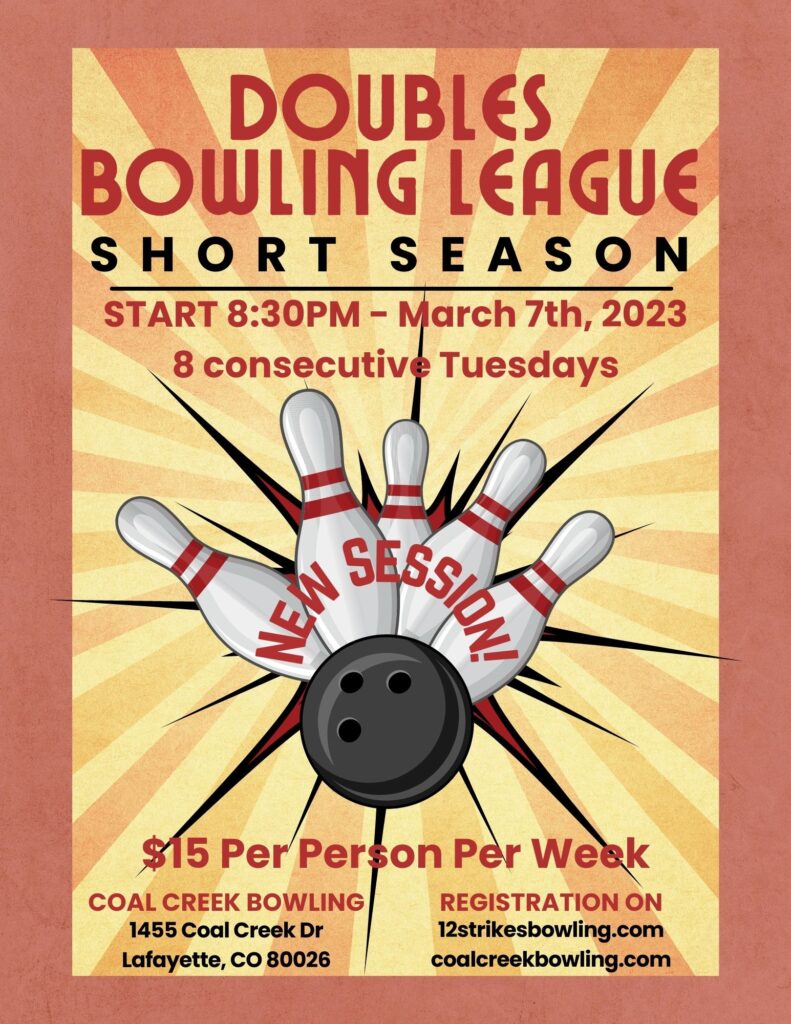 Online Registration (Google Form)
Have questions? See our Frequently Asked Questions Below or please email us at [email protected]
Bowling League FAQ
Why should I join this league?
Bowling is fun! This league is designed to be a fun experience where people come together each week at a set time to bowl and spend time with friends. This league is great if you have never bowled on a league before.
Am I good enough to bowl this league?
Yes!!! Any ability is welcome, especially if you are new to bowling in a league.
What if I don't have bowling shoes or a ball?
Not a problem. Each week during the league you can rent a pair of bowling shoes for free and there are bowling balls available for free that you can use too!
Can I sign up as an individual?
Yes you can and we will work to get you paired up with someone who is also looking for someone to bowl with.
What is USBC certification?
USBC is the United States Bowling Congress and is the national governing body for the sport of bowling. They set rules and specifications for both bowlers and centers to follow to ensure competition is fair for everyone. In addition, local USBC organizations provide services to leagues and members including running several tournaments and events through out the year.
Is there an additional cost to be a USBC member?
Yes there is. There are 2 types of USBC memberships that are available to you on this league. The two types are Basin and Standard. Basic Membership is $10 and is only good for this league. Standard Membership is $30 and is good for this league and any other USBC league that you may bowl between now and then end of the bowling season, July 31. Standard Members are also eligible for awards from local and national USBC organizations. There is no additional cost for Standard Members who already paid their membership dues in another league.
Please see our page about Basic vs. Standard membership and which one is best for you.
What if I have additional questions?
Feel free to email us at [email protected] or find us on Facebook and send us a message